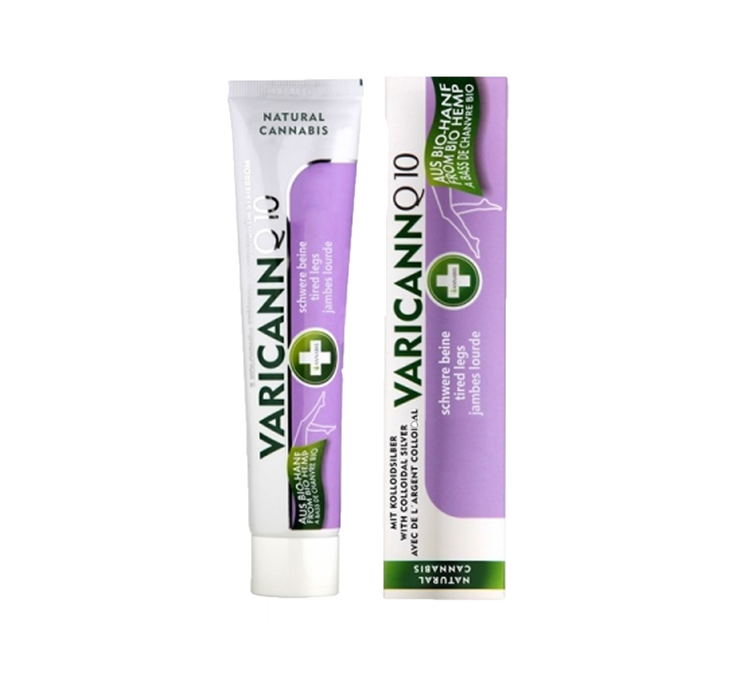 Hemp Gel / Vein Ointment - Varicann Q10
• Content: 75 ml

The Q10 vein ointment from Annabis can help with venous diseases, heavy legs, swelling and tingling. Due to the contained colloidal silver, the gel refreshes tired, heavy legs revitalize. It can provide relief and alleviate inflammation-related complaints.

Many people report that they apply Varicann Q10 ointment after long working days, long periods of standing or running and sports, as it can help the body to relax and regenerate.

Application: Varicann Q10 with colloidal silver can be used as required to refresh tired and heavy legs and to strengthen the veins.

Varicann Q10 should not be used on children under 3 years of age.

It should also not be used in cases of known allergies to any of the ingredients. Please do not use around the eyes or in the area of the mucous membranes.

Ingredients (INCI): Water, Glycerin, Cannabis Sativa Seed Extract, Aesculus Hippocastanum Fruit Extract, Hamamelis Virginiana Leaf Extract, Ruscus Aculeatus Root Extract, Cannabis Sativa Seed Oil, Vitis Vinifera Leaf Extract, Centella Asiatica Leaf Extract, Ginkgo Biloba Leaf Extract, Melilotus Officinalis Extract, Dimethicone, Troxerutin, Carbomer, Triethanolamine, Cymbopogon Citratus Leaf Oil, Tocopheryl Acetate, Allantoin, Diosmin, Ubiquinone, Hesperidine, Colloidal Silver.